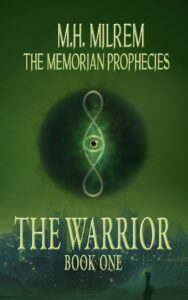 The Warrior is dark.
Let me repeat that: This story is really dark.
If you don't like dark, stop here.
You see, in this book, children are tortured and killed, there are several worlds full of horror, and even the sunny world of Lysena is very much not what it seems.
Tria is an accomplished thief at a young age, yet her considerable ability is barely enough to survive what the Magician throws at her. She has to fight for her life time and again – never knowing why. She suffers endlessly, but she also grows stronger and learns to defend herself, on several levels. And she never loses her center, her innermost desire to be free.
This story is also full of mystery which won't be resolved even at the end. That's because The Warrior is merely the beginning of a huge tale, a story so complex and convoluted that it takes more than one book to show it all. In fact, it takes almost an entire series.
If you pick up The Warrior you must trust the author, M.H. Milrem. (And me, a little, maybe.) It is very much worth it, even if this first book leaves you feeling confused and upset.
The Memorian Prophecies are not an easy series. The books are disturbing, mysterious and difficult. And they are so much worth it.
So go and pick up The Warrior. If you have the fortitude for dark tales, this is a perfect read.
Newsletter
Never want to miss a review or a new book? Want to learn about book deals? And best of all, do you want to read about the adventures of Ember, my little dragon familiar?
Sign up for my newsletter.