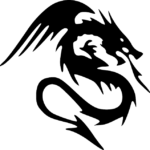 Hannah Steenbock's novels and short stories fall into four categories, which is easily explained:
I write both in English and German, and I do both novels and short stories. In fact, I started out with German short stories because back then I was part of an author group that regularly produced anthologies. I'm even the editor of one of them.
For a few years, I was represented by a German agent, and thus focused on writing novels in German, so they could market them more easily. After ending that cooperation, I dove into writing in English, the language that I truly love. In 2013, I started self-publishing, and don't plan on stopping anytime soon.
What I'm writing
English – Right now, I offer you three entire series, a dragon one, a steamy SF one, and a sweet werewolf romance one.
German – two novels for now, "Finderlohn" and "Der Mannwolf von Königsberg".
English short stories – there are three or four single stories and a collection, "Here be Dragons".
German short stories – lots of them, mostly in anthologies.
---
Find Hannah Steenbock on Social Media
You can meet me on Facebook, Twitter, and MeWe.
---
Newsletter – never miss a new book
Just a quick note: If you never want to miss a new release, get cute tales about my dragon plushie Ember, and enjoy recommendations, I offer you my newsletter. I send it out once a month on every 13th, plus the occasional release announcement.