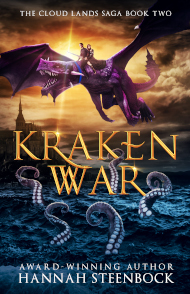 "Kraken War" is the second book in The Cloud Lands Saga novella series. (Read "Dorelle's Journey" first.)
Description:
Dragons against Kraken – who will win?
The Kraken invasion has begun, and King Elsen gives Prince Orlen and Dorelle joint command over a dedicated force to combat the monsters. Yet even as they organize their Wings for the task, treachery is brewing among the dragon and rider teams.
Bloody battles, a clever rogue dragon and two missing Wing Commanders are only some of the problems Dorelle and Prince Orlen have to deal with.
Can they win this war and survive the treachery?
Hannah's Thoughts about writing "Kraken War"
This was the logical sequel to "Dorelle's Journey", as she had delivered the warning about the Kraken invasion to King Elsen. And Orlen and Dorelle are the logical commanders in the coming war. That part was easy.
And I knew about Debesh and his terrible suffering even before I set out to write the tale.  He's my loyal hero, dedicated to his duty and his dragon – and willing to go far for that. He comes close to paying with his life, and not just once. I love this stoic guy, just as much as I love Dorelle and Orlen.
Funny enough, setting up the antagonists, Kildren and Lendril, was not as simple. I wanted to use her to show what happens when a dragon is the dominating part in the dragon-rider team. However, at least one reader saw her as the only strong woman in the tale, while I had intended her to be powerless against her dragon's clear manipulation.
So what is your view of Kildren?
You can share it in a comment below – that would make me very happy.
What people say about "Kraken War"



"[…]everything I said about "Dorelle's Journey" ("everything just feels right – the writing, the story, the pace, the setting, the characters… everything. It's all perfectly blended and seamless.") remains true for "Kraken War" – the second book in "The Cloud Lands Saga"."
Dawn Lewis – Amazon review
"From the very beginning, you are drawn into a world of dragons and their brave riders banding together to fight the terrible Kraken. This was a worthy follow-up to book I, "Dorelle's Journey", and I found it quite enjoyable."
Jerseygirl – Amazon review
I want to read it!



If you buy the print, you'll get the ebook for free (sadly, this only works on Amazon.DOM). Deal?
Amazon links:

Amazon.com / Amazon.co.uk / Amazon.de
Link to all other stores:
Kraken War – Books2Read
(Available on iBooks, Kobo, Nook and Tolino.)
Continue reading with "Dragon Court".