"Dragon Prey" is the first book in The Cloud Lands Beginnings.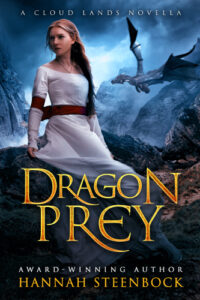 Dragon Prey
When humans became prey…
Set in the prehistory of the Cloud Lands world, "Dragon Prey" tells the story of how humans and dragons met for the first time.
Their early encounters are anything but auspicious. Humans and their livestock become the prey of invading "firebeasts".
What will it take for them to survive?
Hannah's Thoughts about writing The Cloud Lands Beginnings
After finishing "The Cloud Lands Saga", I knew I needed to write more dragons. I do have some dedicated fans, and they all agreed. More dragons!
So I thought about what I knew about the Cloud Lands world and the humans and dragons in it. And I wondered how they ever started teaming up.
What happened when humans and dragons met for the first time?
Well, it wasn't a pretty picture, to be honest. And "Dragon Prey" starts out with the humans on the losing side of that encounter. But as in all first contact situations, there are people on both sides who are curious enough to learn more about it each other.
In "Dragon Prey" those two people are Sidren and the young dragon Kreysha. And telling their story was just a wonderful adventure.
I think this is the best book I've written so far…
What People say about "Dragon Prey"
"One of the strongest aspects of the novella is how the author presents and evolves the relationship between the humans and dragons. I found this a fresh take and an interesting direction to take dragons within the fantasy genre. The relationship between Sidren and the dragon Kreysha, and how it progresses, is the core element to the novella and that central relationship works well."
Luke Winch – SPFBO8 Review on Before We Go Blog
"This was a really good read, with lots of action, a great pace, real people to believe in, and of course: dragons. If you think any dragons is a good dragon, think again. Read up on the things Sidren and her tribe face and then you'll know." – Review on Goodreads, by Paul Kater
"The characters, particularly Sidren and Kreysha, were complex and well drawn. The danger to Sidren and her people, as suggested by the title, was palpable and kept me turning the pages. I found myself intrigued by Sidren and Kreysha's evolving relationship and Kreysha's interactions with the members of Sidren's clan. The author has created a complex world and complex characters here, but she makes it feel realistic."
Jamie BJ – Amazon review
"I loved everything about this story. It really kept me engaged and I finished it within a day because I couldn't put it down."
C. Bennett-Shultz – Amazon review
You can get "Dragon Prey" as an ebook through all major vendors. The link above will take you to a page where you can choose which store to buy from.
Print is only available through Amazon, however. If you buy a print version, you can get the ebook version for a reduced price – unfortunately, only on Amazon COM, but maybe you like to buy a present for someone and get the ebook for yourself.
The Cloud Land Beginnings continue with "Dragon Clan"
Dragon Clan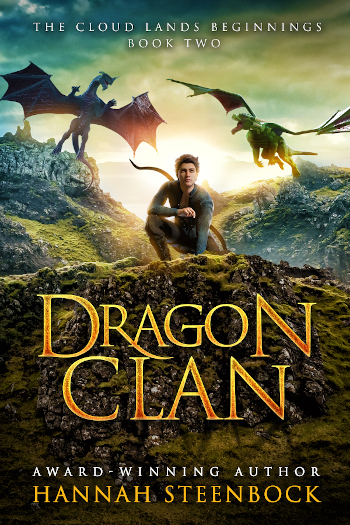 Description
Their meeting might change the fate of the world.
A young dragon, fleeing a harsh and cruel leader, looking for freedom and love.
A daring human, an explorer who cannot ignore a plea for help, not even when a dangerous firebeast utters it.
When they meet, they change each others lives – and possibly the future of the world.
Set centuries before The Cloud Lands saga, this book continues the tale of what happened when dragons invaded the Southern Continent where humans dwell.
Where to buy "Dragon Clan" – it's ebook only for now:
Amazon | Apple | All other stores
More to come:
"Dragon Pawn" –  almost finished
"Dragon Power" – work in progress