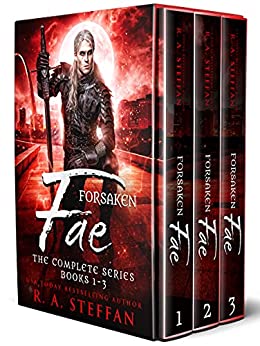 The Forsaken Fae is an enemy to lovers story, set in a world where Earth intersects with Dhuinne and Hell – home of the Fae and the Demons, respectively.
Of course, Earth is caught in the middle of an epic war between the Fae and the Demons. And Len Greyson has been dragged into the fight, first by his ex-coworker Zorah Bright, then by his boss Guthrie Leonides and of course, his other ex-coworker Vonnie Morgan.
You'll find those stories in The Last Vampire series and Vampire Bound series (and yeah, you kinda should read those first, there's a catch). They are worth it.
So why am I going to talk about Forsaken Fae instead of the other two series?
Because this series is something else. It starts out with quite a funny scene – two vampires knocking on Len's door with an unconscious Fae slung between them. It quickly becomes a fast-paced ride into heart-break land with ultra high stakes.
I love how this whole tale is told entirely from Len's point of view, with plenty of snarky comments and little detours inside his agile mind. Not to mention all the guilt and trauma he has to work through, both old and new. Len is a mess, gay, bondage rigger, drug addict, seer of ghosts. And yet, despite knowing better, he gives everything and more to help his friends.
What I love about Forsaken Fae
Some of my favorite moments were the scenes where Len and the annoying, arrogant and irritating Fae Albigard are beginning to bond, especially after they literally came to blows in the earlier series. Len really has a kind heard – and he pays for that.
I also very much enjoyed learning more about Albigard's history, as painful as it is. Step by agonizing step, it becomes clear why he is (NOT!) a friend of the vampire Ransley Thorpe or why he cooperates with Nigellus, the Demon. Why he goes against the Unseelie Court and actively works to thwart their plans. And it costs him. Dearly.
Now, if you like intense tales, if M/M love and sex don't phase you, if you enjoy some gentle bondage set in a paranormal world with high stakes, if you feel like visiting Dhuinne and find out about Fae magic (and necromancer magic while you're at it), then you should pick up this series. (Possibly after reading the other two, though.)
This series gets 7 of 5 stars, totally recommend.
Where to get Foresaken Fae
Find the Forsake Fae and the other series HERE (they are in Kindle Unlimited, if that appeals to you.) This is a set of three boxed sets, lots and lots to read for you.
There's also a follow-up series, The Sixth Demon, which is about Nigellus. I started to read it, and it's not quite as intense as the Forsaken Fae. It switches between two points of view, the reason for which becomes painfully obvious at the end of book 3. Book 4 comes out in May, and I would suggest holding off until then, just to save yourself some sleepless nights. Fair warning. (Now get out of my head, Nigellus!)
Newsletter Pop-up
If you're like me, you hate pop-ups. And that's why you get a little reminder at the end of every post that, yes, I do have a newsletter, thankyouverymuch.
It comes out every month, on the 13th because I love that number. Even better if it falls on a Friday.
You'll get some writing news, new book news, some book promotions, a review and – last but not least – an Ember tale. Ember is my cute little red dragon familiar (don't tell her she's a plushie, she'll flame you!), and she's responsible for the pet content in my newsletter.
Sign up right here: