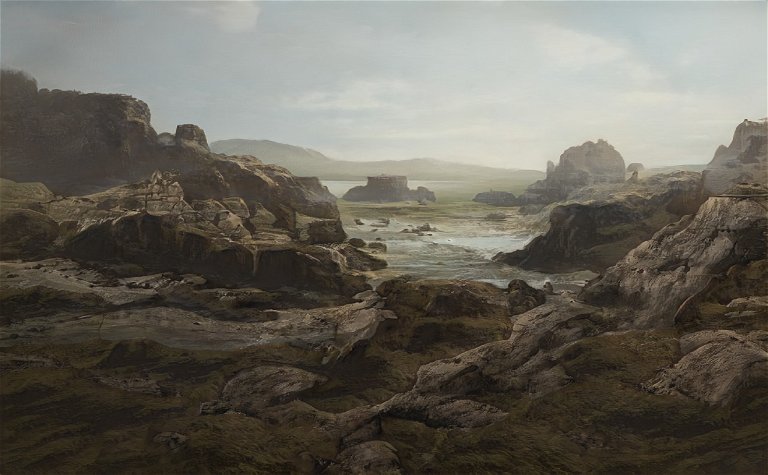 This progress report is rather hard to write. You see, I stopped writing this month.
Yes, that's right. I gave up on my daily writing habit, after clinging to it for over four years.
The sad truth is that it had become very hard to write up even a hundred words a day. I usually left it until I couldn't stall any longer just before bedtime. And it poisoned my entire day.
When my sister came to spend a week with me, the chore of writing sucked the joy out of her visit. On day three, I gave up. I didn't want to let a habit that had continued beyond its due date to spoil our vacation together.
I haven't written since. It's been two weeks now that I filled with reading, with walks, with fun. With joy, even.
Yesterday, I got back home after a visit with my family. One that was better than ever before, simply because I had freed myself from the chore of pushing words that I didn't really feel.
Of course, the question now is… what can I put into a progress report? Let's see:
Winds and Pillars Progress Report
Sun has been dragging his feet and refusing to talk to me. That was mostly the reason why my writing has slowed down and become a chore. So – following advice from a good author friend – I decided to let him stew for a bit.
Instead, I'll go through Earth Splits, rewrite the ending (that will be so much fun!) and give someone quite a reunion. (Can't say more, spoilers.) I do want to write the description tomorrow and commission the cover. And then I'll do a thorough edit. I hope to be able to publish the book in May, hopefully before the next newsletter rolls around.
I also have ideas for Moon Rises, which is going to be the last book focusing on one main character. I already know she'll be a bit of an overconfident bitch. And she'll meet someone that connects back to North. (*evil snicker*)
The final book will be Spirit Sings, and all of the Winds and Pillars will get screen time in that one. (Yes, I am a little scared about writing that one…)
The only thing that does make me a little sad is the fact that people are not reading (aka buying) the series. There are four books out already!
I'll share a few words from a lovely review I got for North, though:
If you have read the other books of the series, you can already anticipate that this is the fourth wind escaping certain death.

But, like in the other books, the way it happens and what happens afterwards is quite unique and tied to the specific abilities and magic of the escaped. And, oh, boy, is this story going through some twists and turns.

Read it here: "You will need to hold your breath!"
Proofreading Progress Report
I have another proofreading job coming up end of April, but if you're interested in having me proofread your book, let me know. Depending on how much work it is (I do a test chapter), I may be able to fit you in. There are definitely openings in May.
Check out my Editing Offers.
Progress Report of Other Things
Well, there aren't a whole lot of other things. I'm working on marketing (mostly BookFunnel, I put those in the newsletter), I am building a bubble on Mastodon and posting in my Facebook group.
In fact, I'm just getting back into the swing of things after a nice, long vacation. I really needed that break… more than I thought, to be honest. I was close to burnout from stress. And most of that stress came from forcing myself to write.
The trick is now to actually change my life to avoid getting this stressed out again. I'm planning on adding walks (failed that today…) and finding ways to meet new people and build friendships here where I live. I might even try to teach some English. There is irony in that – I have a teacher degree in English and Spanish from university. (Bet you didn't know that.)
The Newsletter Pop-Up (not a Progress Report)
We all hate pop-ups. Or at least I do and that's why I'm not inflicting them on you. Instead, I put a reminder at the end of each blog post. And if you read my posts, you should be able to tell they are always different and new.
So why would you want to read my newsletter?
Well, you'll never miss another release. I'll also share a review, this progress report and awesome opportunities to grab books for free or on a deal.
Not good enough?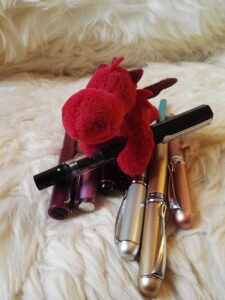 Okay, I'll give you Ember. She's my little dragon familiar, and every newsletter contains a little tale about her (most often sweet). You can find them nowhere else.
This is an old image where she was hoarding my fountain pens. The collection has since expanded considerably, by the way. (Yes, I can be a bit… intense with things I love.) I now have almost all Pilot Metropolitans.
So if I managed to entice you into signing up, just use the form below, and you'll receive a few short story as a welcome gift. Cool, eh?