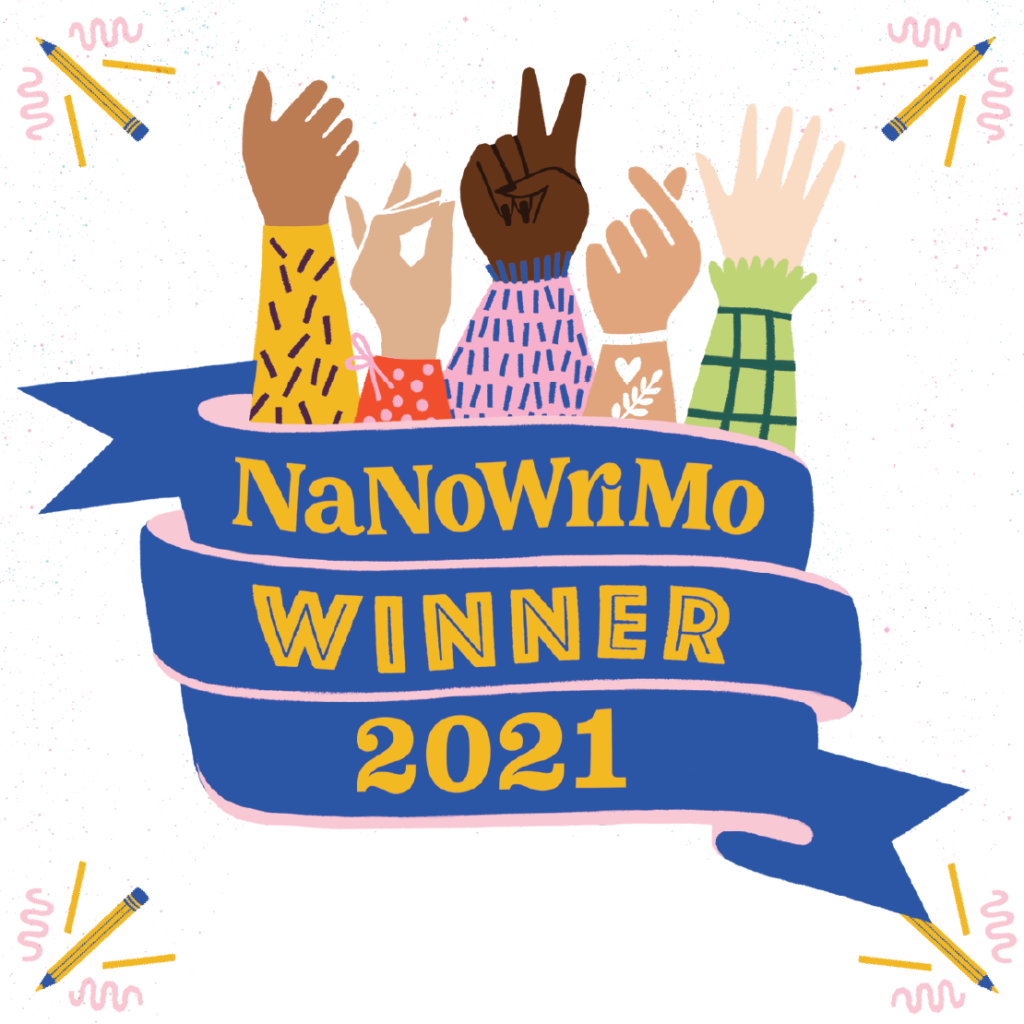 It's been ten days since the NaNoWriMo challenge ended.
So let's talk about what it did for me this year.
As you can see, I did win NaNoWriMo.
Yes, I did write 50,000 words in November. I even finished a day or two early, even though I had to play catch-up for a few days. And that is a good and valid result.
But.
I didn't get all I could out of it (a new book, for example) because I didn't follow all the "rules". In fact, I ended up with quite a mess. Here's what I did "wrong".
I didn't start a new story.
Starting a new book and living through all parts of it is actually the whole point of NaNoWriMo. You're supposed to begin a new story on November 1st and let it grow through-out the month so you end up with a new book at the end of it. Pushing through in one month lets you experience all the emotions that go with it – from an excited starting point to a sagging middle and a rushing finale.
Originally, this was the pantser festival (aka not planning your story but just letting it flow out). Now people often plan their stories ahead of November and still use the website and the companionship to hammer out words. Which is fine by me.
That "write a new story"-rule got ignored because I was in the middle of a rewrite for a dragon story that I was planning to release in January. I didn't want to push it aside for something new. (I should have done that anyway… considering what happened.)
I didn't even write consistently for one story.
In fact, I wrote words for *three* different stories. The Dragon story, a desperation story (that I will continue one day), and finally New YA story which is now occupying my mind. In a good way, mind you, but that's not what NaNoWriMo was supposed to be about.
So I wrote somewhat incoherent bits and pieces during November, tried new characters, new worlds, mixed genres and created a rather unholy mess. I'm still sorting it all out. It's still fun, yes, and I am happy I got the seeds for a few things.
At least I totally love the New story I came up with. It's now called "The Twin Worlds", will be a trilogy (hopefully), has four main characters and a budding story line. I'm getting bits and pieces, and I can only trust that it'll all come together in a full story. I'm relying heavily on Writer Brain right now.
Lessons from this year?
Return to the good old NaNoWriMo tradition of creating something entirely new. Or at least a new book for an existing series. Plan, if you must, but prepare for a ride.
Create some structure for your writing so you don't end up staying up too late to get your word quota for the day. Seriously. Structure is important, and it's much better to have two or three writing rounds during the day.
Give yourself permission to play during NaNoWriMo. Reserve November for fun. Don't do anything out of desperation. Pick a genre, pick some characters, put them on GO and then see how they run. You can even pick an end point that you are aiming them at. That's what makes a pantser's heart happy. And that's what NaNoWriMo is all about.
Have fun, try something new and just enjoy the return to writing a lot every day.
Because in the end… if we don't enjoy what we're writing, our readers won't, either.
Want to know how New YA story does?
Follow me on Patreon. I make Progress Updates free over there.
Subscribe to my newsletter.