At Blade's Edge is the first book in Doranna Durgin's Demon Steel series. She's republishing them through her own publishing company. Yes, she's very much an indie author, so keep that in mind if you prefer reading indie.
Since Doranna is also an author whose books I tend to just one-click even without reading the description (she is that good), I also grabbed these the moment I learned about them. And they are so good.
Today, I'll talk about the first book in the series, At Blade's Edge.
At Blade's Edge – Book 1 in the Demon Steel Series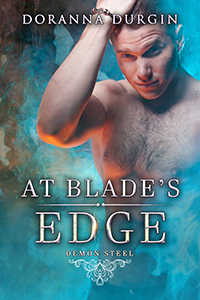 Ignore the man chest. This is not steamy, although there is one (very sweet) sex scene, and yes, it's paranormal romance.
However, this novella is also full of action.
Alex Donally finally gets the attention of Deb Marchant who works in a store for car parts. He doesn't know that trouble lurks in her past, just as she doesn't know he invites trouble for a living. And yes, there is mutual attraction, but both know better than to pursue it.
When their worlds collide, however, everything changes. Alex vows to protect Deb, with the help of a blade that is much more than it seems. And they ride directly into danger…
What I love most about this book is the amazing, crisp language. The description of Alex goes like this – and it tells you almost everything you need to know about him. It is also the very first sentence of the book.
Sharp dark eyes, sharp jaw, black leather and habitual stubble, definite bad-boy attitude.
Of course, there is much more for him that you'll have to fund out yourself.
The characters have depth and a history that goes far deeper than necessary for this little novella and their interaction is clearly influenced by this history. That gives their world much more substance – and it will get even better in the next two books which are full novels.
What I don't like? That cover. Dear gods, that's just so not Alex and so not this story. I wanted to share the review in a group that does not allow steam – and a bare chest does indicate steam, even if it's not just a man chest. So I couldn't share it there, which is a shame because there is nothing crass in Doranna's bed scenes.
(Here's a secret. I must have re-read this book five times already. I love it that much – and it still manages to hold all my attention. I'm weird like that.)
Go read this book. Let yourself be drawn into a tight, fast-paced, sweet story that will leave you wanting more – and then continue with the series.
Find "At Blade's Edge" here: Retailer Links
---
Never want to miss another review or new release?
Sign up to my newsletter, Ember Alert!