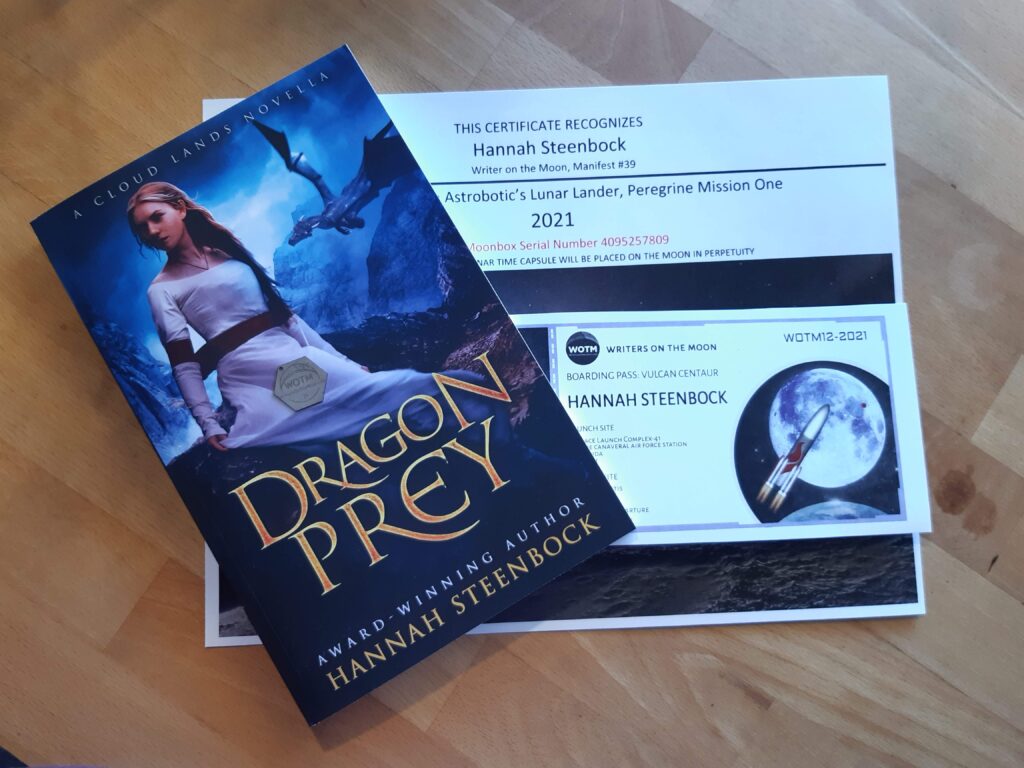 Let's start this progress report with a kind of bang. Or rather, this bang will come in the second half of 2022.
The above picture is how my month started out: I received mail from Susan Kaye Quinn, who has organized the Writers on the Moon project.
It literally means that my books will be on the moon, in the shape of epubs and PDFs, and what you see is the cargo manifest and the flight ticket. If you look closely, you'll also see a little chip on top of the book (on Sidren's body). That's a mockup of the data chip that will be send to the moon. With any luck, the lander will take off later this year.
I think that's so cool!
The Twin Worlds Progress Report
Right now, as I'm writing this progress report, I have some beta-readers going through the first version of Book 1, Steps of Courage. I'm also working on Book 2, Paths of Control, fleshing out the plot and giving my heroes a lot of trouble in the shape of an extra guard sent with them to make sure they don't break any rules.
Which is not working… as you might expect.
In addition, the villain will take a much more active role in Book 2. You'll get a better look than just her fleeing backside, and no, that won't be fun for some of my heroes.
Oh, you want to beta-read, too? Let me know!
Dragon Pawn Progress Report
Yes, I have picked up the story of Marick, after stalling out on the dragon fights that I still need to write. In fact, I'm giving you a sneak preview of the first couple of chapters HERE, outside of this progress report.
I'm almost done with this book, set in the Cloud Lands Beginnings series. You'll see a few familiar faces eventually, but it's all about Marick – and of course, survival in a world where dragons still eat people.
Marick loves horses, which both helps in dealing with dragons and gives him a lot of heartache. Here's how he sees them:
Marick had loved horses all his life. Their scent, their grace, their willingness to partner with humans… all of that spoke to his soul. Horses had always talked to him, through their movements, their looks, and sometimes, their sounds. It was almost like reading minds, he thought. And now, they had been reduced to food. They would never know the kind of partnership that was possible. They would never learn to balance a human on their back and race with the wind.
I'm fairly confident that I can get Dragon Pawn published around the end of June. So stay tuned (and sign up to my newsletter if you haven't already) so you won't miss it when it comes out.
Wolves Progress Report
No, sorry. I still haven't managed to set up the print versions. Apologies.
Instead, I've done something completely insane: I have created the first draft of a screenplay for the first episode of the first Wolf book, A Wolf's Quest.
And it's all the fault of The Mandalorian.
You see, my sister introduced me to the series when I visited them on my vacation before Easter. And my nephew lets me watch on his account. Let me admit it right here: I have binged the episodes. More than once. Ahem.
The story-telling just blew me away. Yes, it's obvious that one person wrote it all and that a lot of thought went into the whole thing, including incorporating as much canon as possible. What I really enjoyed, however, was putting little hints and teasers into the series that really only made sense after a while.
I loved the way they built a main character we don't ever see face to face (well, almost never) into someone we can care about, someone we relate to, someone we possibly might even love.
Simply through the story, through posture, action and his voice (and what a voice it is!).
Which got me thinking very hard about visual story-telling. And I remembered a friend of mine telling me that some of my dialog is practically screenplay-ready. So I asked him, and he generously shared two of his screenplays and pointed me to text books.
Which got me started on writing my own, which is a huge learning curve.
Now I dream of creating a Wolves of the South set of miniseries, one little series for each book. The first one, A Wolf's Quest, will be divided up into three episodes, and I'm working on the first one. Definitely more to come in the next progress report.
It's utterly insane because I have almost no contacts in the industry, I'm not a huge fan of movies and well… let's be honest, most screenplays never sell. And yet I can't get that image out of my mind, and I really, really want to see Ben's eyes shift on screen. And yeah… I want to see Nick on his motorcycle and how Connor kisses Ashley.
If you know people in the streaming industry, would you introduce me?