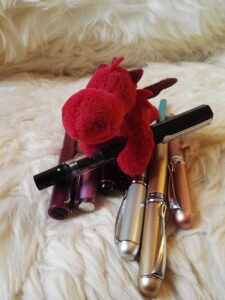 A little over three years ago, I made a promise to myself: I wanted to keep writing every day. Because I wanted to be a productive writer. You see, being an indie author means you have to keep publishing books.
I started keeping track of my word count in a simple spreadsheet a few years earlier, but there were huge gaps, often spanning months.
At that point in time, I wanted to know what I can do as a writer, I wanted to be able to gauge my productivity. And I kept hearing my coach say, "What you measure, grows."
So yeah, I chose to write every day on January 1st, 2019. And I have been doing it ever since.
Yesterday, I reached Day 1,111 of Writing Every Day.
Of course, there is a trick to this.
"Of course," I hear you say. "It's impossible to write every day like that."
No, I didn't cheat. I really, truly wrote every day. But if you look closely, you might notice I didn't specify how much I'd be writing every day.
My worst day was only 11 words.
That was on March 20th, 2019. And I had plenty of two-digit days. Why do I count that as writing?
Because even writing one sentence means that I opened the file, that I thought about the story and that I added to it. I went to that world in my mind. I lived there for a little bit.
That keeps creativity flowing. It keeps the story growing.
Of course, writing more would be better. But there are days when you can't do it. When all you can do is open the file, type out one half-hearted sentence and call it writing every day done.
I can't tell you how often that simple promise to myself has kept me going. Because yes, there is pressure not to break that spell.
Who wants to break a 1,000 day spell of Writing Every Day?
Nobody.
So that's the trick that keeps me writing. Even if it's just a few words.
But you see, those few, reluctant, hesitating words are often just the beginning. They tune my mind into the story, and if I allow this, the words often begin to flow. Of course, this is easier once I get to know my characters and the story picks up some momentum. That's when I get a thousands words or more a day.
But the actual number doesn't matter for the promise.
The trick is setting yourself up for success. And even writing one word – one single, stupid word – is good enough for Writing Every Day. Everyone can do one word.
I would even allow sick days, but fortunately, it hasn't come to that yet. And the whole Covid situation has helped, since I got to work in home office, giving me even more time in a day. 2021 was my best year so far, I wrote 600,000 words. That's 12 NaNovels, if you wish.
And it started with writing every day.
Should every writer go for Writing Every Day?
No. This works for me, first and foremost.
Can it also work for you?
Of course it could. But that depends on your situation and how your life is structured. It depends on how much you want to write, how many deadlines you have, and how you create inspiration.
I like and need the daily contact with my stories. It keeps the characters alive and interesting for me. And they often enough throw me curveballs when I start writing with the mind not yet fully engaged. I love it when that happens.
But if you need silence, the kids or dogs taken care of and no urgent demands on your time before you can enter your world with a clear conscience, then writing might be something you can do best on Monday mornings.
I would still encourage you to try writing every day. Even a little amount of words adds up, and if you even manage a thousand words a week, you'll have a 50k novel at the end of the year.
Want to try the Writing Every Day Club?
Join my Facebook group The Write Mindset, where I run a bit of accountability every day. It's free. And I think it's fun. Oh, and if you don't like Facebook, I have a similar group on MeWe, called Authors and Editors.
Want to get writing news? Sign up to my newsletter.