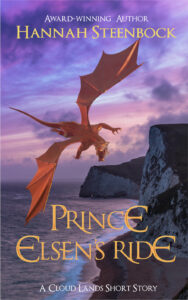 Welcome to my  newsletter, and thank you for signing up. You will also receive an email, just to make sure you will get that download link one way or another.
I promise I won't spam you, and you'll get my monthly newsletter on the 13th of a month, and occasionally a gleeful extra one about a new release. Okay?
(And you can always unsubscribe… although I will miss you.)
So here are the eBook files for "Prince Elsen's Ride" that I promised.
If you haven't gone to the link from your email, you need to download the file you want using the (same) link below, and then sideload them into your ereader. How that works depends on your device – and you're probably more familiar with it than I am. Prolific Works do explain this in their email, fortunately.
Unfortunately, there is no better way for now. I apologize for the clunkiness.
"Prince Elsen's Ride" – download link via Prolific Works
I have two favors to ask:
1) Please don't share this link with someone else. They can simply sign up themselves. You're my reader, and I trust you have integrity. Thank you!
Send them to my newsletter page to sign up and get their own copy: Newsletter Sign-up
2) If you enjoyed the book, talk about the tale on Facebook etc., or send me an email with your feedback after you've finished the story. That would be absolutely awesome!
Thank you!